South of Split and north of Dubrovnik, this incredible region is home to some of the most unique indigenous wine grapes in Croatia – as well as some of the most majestic and beautiful islands in the world.
Numerous microclimates with vineyards grown on impossible hillsides along stunning seaside venues makes travel to this wine region a must. By car and ferry, exploration from the Pelješac Peninsula through the Dalmatian islands of Korčula, Hvar and Brač on to north of Split to the birthplace of the Zinfandel grape is a treat for the eyes, palate and soul.
Many of Croatia's 40 native grape varieties are grown here, and have been for centuries. On the island of Hvar is the Stari Grad Plain, UNESCO World Heritage Site, the home of an agricultural landscape set up by ancient Greek colonists in the 4th century BC. It remains cultivated today in vineyards and olive groves. The fresh and bright tasting white wine variety Bogdanuša is indigenous to the island of Hvar and is thought to have originated in the Stari Grad Plain.
The Pelješac Peninsula is the perfect beginning of a wine trail to discover Pošip, an indigenous white wine along with the signature Croatian red wine Plavac Mali. On Korčula island, the Grk variety (thought to be named after the Greeks who first cultivated the vines here) is a slightly effervescent white wine which at one time only grew on one small part of this island, near the town of Lumbarda on sandy soil along coastal waters.
Island hopping from Hvar to Brač will lead to Split from which the wine trail heads north to Kaštela where the original Zinfandel grape was cultivated, known as Tribidrag. From here the trail heads further north along the Dalmatian coast to Primoštan, Šibenik, and Zadar – where one can find vineyards planted on steep hillsides of Babič, an inky, strong, and tannin-rich red wine.
We have curated several routes through the region, based on what you are interested in seeing and how much time you have.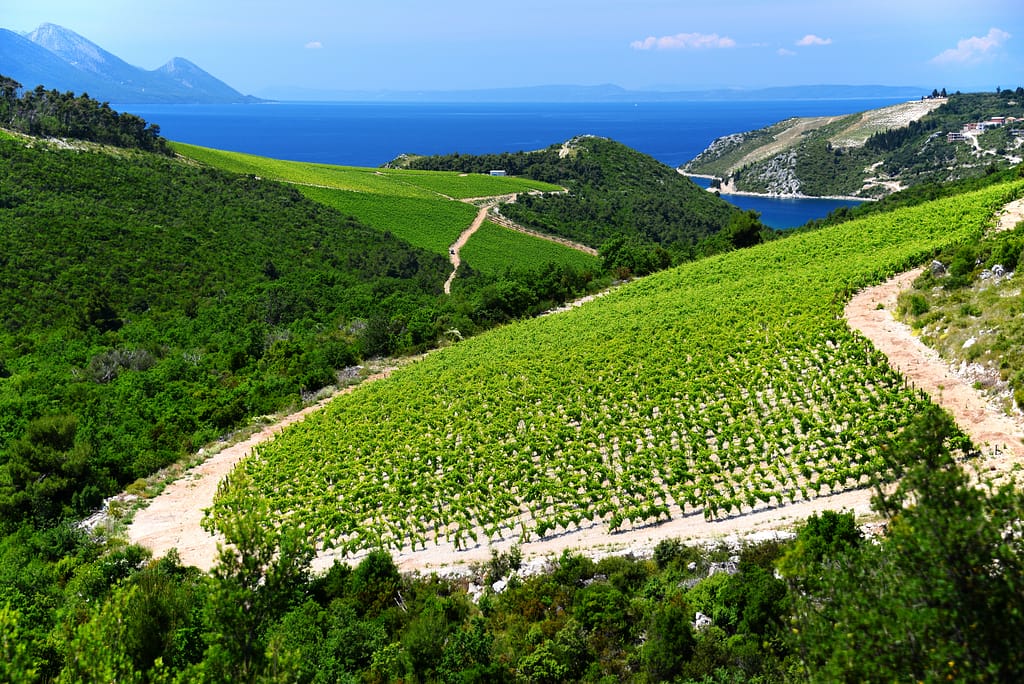 Dalmatian Wine Trails